Habitat Program - Our Mission is Habitat
Habitat conservation is the foundation of Pheasants Forever/Quail Forever which is why we are known as "The Habitat Organization". Our chapter is committed to wildlife habitat. The goals of our Habitat Program are to increase the amount of wildlife habitat, to improve the quality of existing habitat, and promote the public access to hunting habitat.
Central Indiana has experienced, and continues to see, a significant reduction in habitat which is ultimately impacting all wildlife, including game birds. Quality habitat is critical to stabilizing and increasing game bird populations and other wildlife numbers. Therefore, we must work to protect quality habitat, improve existing habitat, and restore lost habitat.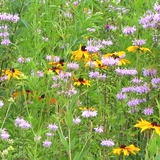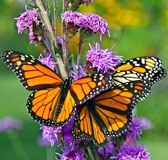 Game birds, like all wildlife, need high quality habitat that provides feeding sources, nesting cover, brood rearing areas, and winter cover. For game birds, this means upland or grassland habitat consisting of native, bunch-forming grasses and wildflowers. In addition, the highest quality grassland habitat will include native shrubs and edges that adjoin other habitat such as water sources, woodlands, and fields. The native grasses, native shrubs, and edges provide important protection from the weather and predatators. In addition, both pheasant and quail prefer stands of native grasses for nesting. Finally, native wildflowers attract insects that are critical to brood rearing which is why PF and QF are strong proponents of pollinator habitat. By providing pollinator habitat, you are helping butterflies and other beneficial insects, but you are also providing the number one food source for growing chicks!!
Warm-Season Grass Drill
Our Chapter has a warm-season grass drill which can be used to plant grassland habitat. This drill is an agricultural planting drill that has specially adapted seed boxes which are required for the fluffly warm-season grass seeds and the tiny size of the native wildflower seeds. To learn more about the drill or to use the drill for your habitat planting, contact Dan Wood by email or (317) 690-0099.
Farm Bill Biologists
Our Chapter also supports the statewide PF/QF Farm Bill Biologists program. Through our financial partnership with the Natural Resource Conservation Service and the Indiana Department of Natural Resources, Indiana has four Farm Bill Biologists including three that serve our service area. The Farm Bill Biologists can assist landowners in designing, developing, and funding habitat projects. The Biologists are knowledgeable of federal, state, and local programs and can assist you in finding the right program for your needs. Click here for more information or to find the Biologist for your area.
Habitat Documents
Grassland Habitat Establishment - Quick Guide